Popular Pages
---
Crane Repair Services
---
Crane Parts
---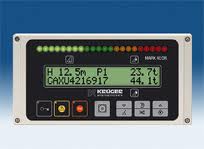 PAT Hirschmann MK4e2 Features:
- Displays actual / allowable load, load radius, boom angle, and length
- Integrated bar graph provides a quick color coded reference of cranes utilization
- User-friendly set-up through the operators console
- Alerts the operator when any of the software derived limits are reached or of an impending two-block condition
- Complies with SAE and ANSI B 30.5 standards
Designed for use on mobile cranes, the MK4E2 is installed and calibrated to the load chart of each crane— including specific load and geometric limits on boom length, angle, and operating radius. This leading edge technology improves the efficiency and productivity of crane operations by giving the operator the information necessary to fully utilize the crane's working capacity, while keeping within the working limits of the crane.
Call Now… Our Parts Experts are Standing by to Help!